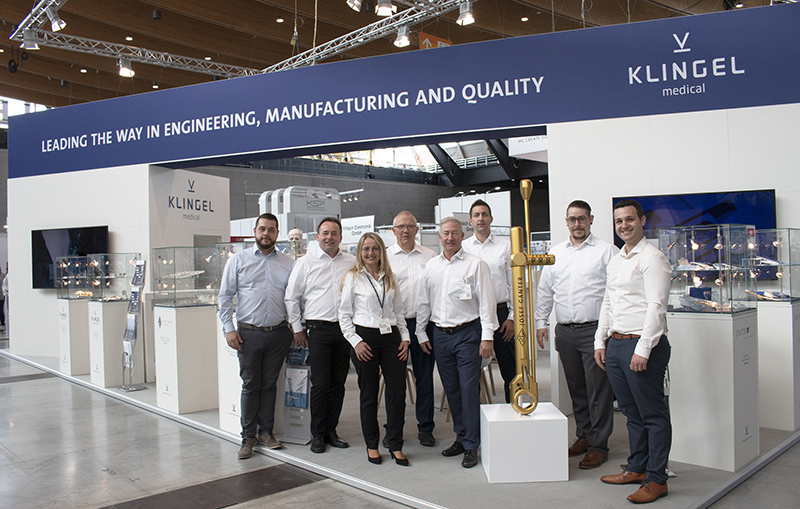 Successful start to the trade fair season at MedtecLive with T4M in Stuttgart
The Klingel medical metal group presented itself with a new group stand at the MedtecLive with T4M exhibition in Stuttgart from 3 to 5 May. On the three days of the trade fair for the medical industry, the partner companies Klingel medical metal (Pforzheim), Josef Ganter Feinmechanik (Dauchingen), Puracon (Rosenheim), Bächler Feintech (Hölstein, Switzerland) and Ruetschi Technology (Muntelier, Switzerland) showed their entire portfolio of applications, engineering and processes as contract manufacturers for medical and dental technology. Interesting and promising discussions developed with visitors to the stand, including some regular customers, but also potential new customers, suppliers, press representatives and students from various universities. The diverse exhibits from orthopaedics, endoscopy, dental implants and instruments as well as packaging technology, which reflected the entire value chain of the full service provider, attracted a great deal of attention.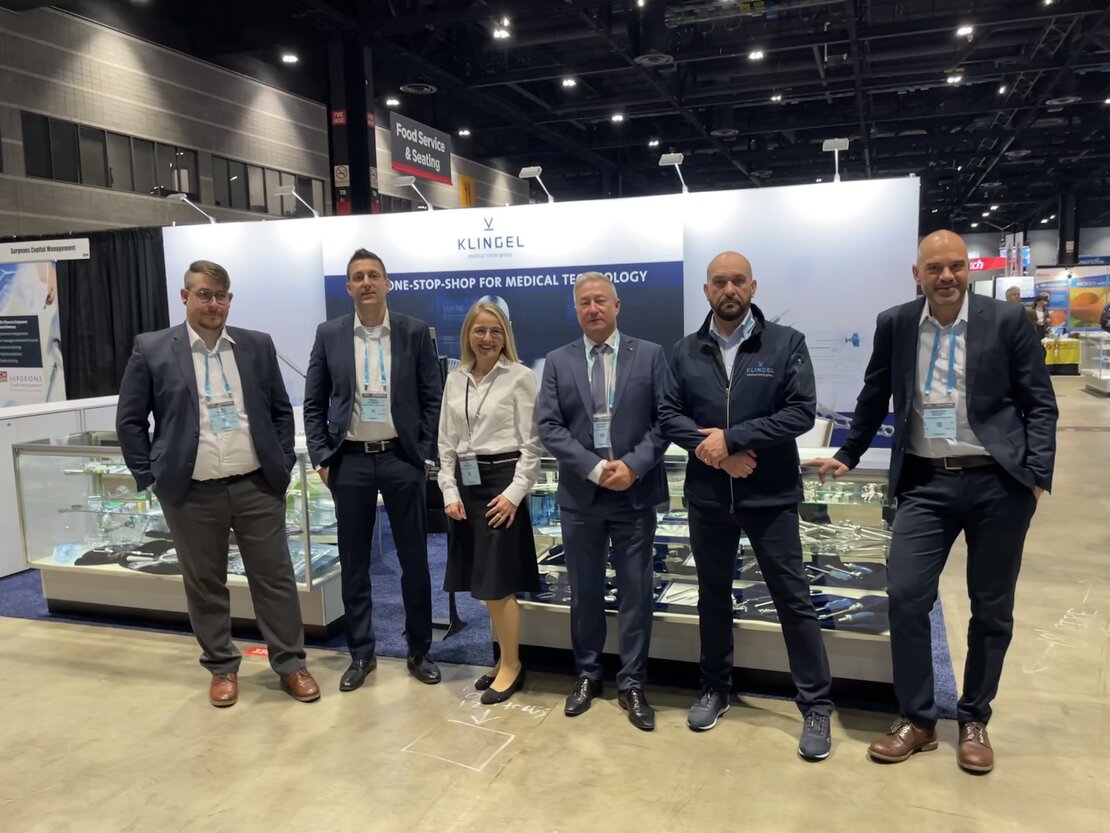 Successfull premiere on AAOS
Klingel medical metal group presents itself as a full service provider
Pforzheim, 29 March 2022
For the first time, the Klingel medicalmetal group presented itself at the "Annual Meeting" of the AAOS (American Academy of Orthopaedic Surgeons) in Chicago with its own stand. On three congress/trade fair days, the partner companies Klingel medical metal (Pforzheim, Germany), Puracon (Rosenheim, Germany), Bächler Feintech (Hölstein, Switzerland) and Ruetschi Technology (Muntelier, Switzerland) presented their entire spectrum as contract manufacturers and full service providers for orthopaedics. On display were customised versions of implants, instruments and tools for surgical procedures, complete, sterile-packed surgical kits as well as sterile and non-sterile packaging for medical technology. Interesting and promising discussions developed at the company's own stand, but also during visits to the stands of well-known medical technology manufacturers who were also represented as exhibitors. The stand personnel were confident that the high quality and high standards of the congress participants/trade fair visitors will have a positive effect on new and existing business relationships as well as the order situation of the participating partner companies.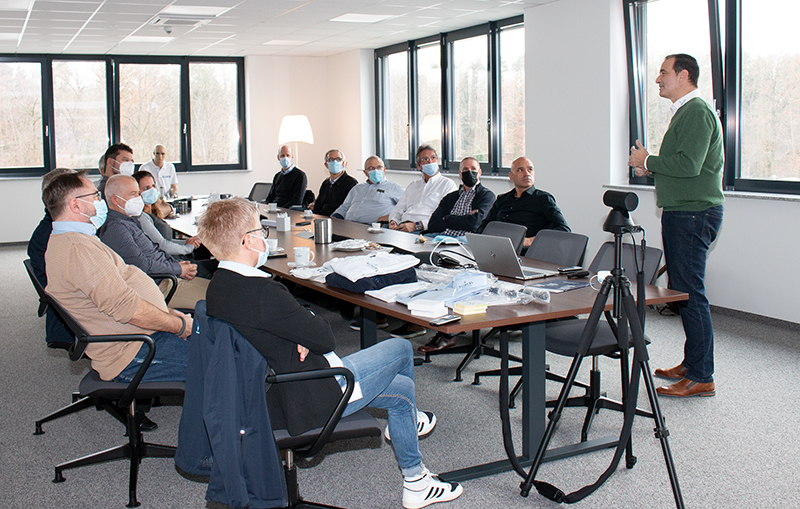 20 Dezember 2021
Delegation from the new partner company Ruetschi Technology on visit
Participants impressed by technological equipment and product diversity
Representatives of Ruetschi Technology made their "inaugural visit" to the parent company Klingel medical metal in Pforzheim after the company takeover in November. In addition to Managing Directors Christoph Ruetschi and Christian Moser, the eleven-strong delegation included various department heads as well as sales and customer service staff from the company's headquarters in Muntelier and from the production facilities in Yverdon-les-Bains and Renquishausen. After a welcome by Managing Director Ralf Petrawitz and a shared snack in the new company canteen, Petrawitz introduced the guests from Switzerland to the development of Klingel medical metal since the company was founded by Helmut Klingel in 1986 until today. From a few employees at that time and the first beginnings in medical technology in the dental sector, the company has developed into a group with five partner companies in southern Germany and Switzerland, which follows the principle of a one-stop shop for medical technology, but also measurement and control technology as well as aerospace. He drew a positive picture of the integrations so far and sees an enrichment for the participating companies not only in the diversity of processes and technologies, but also in nationalities and mentalities. Last but not least, the 7,500 m² new building at the headquarters in Pforzheim, which is to be fully occupied in the course of next year, offers space for expansion, Petrawitz emphasised. During the subsequent tour of the company in three groups through the four plants, the delegation was impressed by the diverse technologies, the modern machinery and the high degree of automation. The diversity of the products, many of which are highly complex with tight tolerances, the consistent quality management, the investments with regard to increasing digitalisation of the process chains as well as the practised customer orientation in project and account management also repeatedly generated enthusiasm.

12 November 2021
Klingel medical metal acquires Swiss based MedTech company Ruetschi
Klingel medical metal group ("Klingel"), owned by the IK Partners' funds and with its headquarters in Pforzheim, announces that it has signed an agreement to acquire Ruetschi Technology Holding AG ("Ruetschi"). Ruetschi is a leading contract manufacturer for medical devices, with a special focus on sterile packaged single-use procedure kits for orthopedic, spinal and dental surgery. This transaction represents the fourth acquisition for Klingel since IK Partners ("IK") acquired a majority stake in 2018.
Ruetschi was founded in 1960 and employs more than 200 people at three production sites in Muntelier (CH), Yverdon (CH) and Renquishausen (DE). Like Klingel, Ruetschi is a leading one-stop-shop with profound expertise in engineering, product innovation and development as well as regulatory requirements. It operates a state-of-the-art machine park and serves a number of top MedTech OEM customers.
Through the acquisition, Klingel further strengthens its leading position as MedTech CMO in Europe and a key partner for its global customer base highest quality requirements.
Ralf Petrawitz, CEO of Klingel, said: "Ruetschi is the perfect complement for our growing MedTech platform in Europe. The combination does not only add further manufacturing capabilities to Klingel's offering, but also brings leading MedTech customers to the group. We look forward to continuing the journey and grow stronger and larger together with Ruetschi."
Christoph Ruetschi, CEO of Ruetschi, said: "We are very happy to have found a good partner with Klingel to form a clear leader in our field. Klingel is the perfect home for our 200 employees and will enable the company to thrive as part of a European group. Together we will be able to serve our customers even better by offering a broader set of services."
About Ruetschi:
Ruetschi is a developer and producer of high-tech implants and instruments for the medical industry, with a special focus on sterile packaged procedure kits for spinal surgery and dental implantology. Based in Muntelier, the Swiss company operates a second location in Yverdon-les-Bains and a third in Renquishausen, Germany. It is managed jointly by Christoph Ruetschi and Christian Moser and employs more than 200 people. For more information, visit www.ruetschi.com
BÄCHLER CHANGES TO CORPORATE – FROM RED TO BLUE
Today we would like to inform you about an exciting news from our company:
Bächler Feintech AG has been part of the Klingel medical metal group for quite some time.today we would like to inform you about an exciting news from our company: Bächler Feintech AG has been part of the Klingel medical metal group for quite some time.We are therefore pleased to announce that we will now also visually represent this great community and thus implement a change in corporate identity. The "BÄCHLER RED", that you have been familiar with until now, will now become "BÄCHLER BLUE".
What does this change mean for our business relationship?
For you, this change means first and foremost that we will continue to position ourselves as your strong partner nationally and internationally and work for you with joint forces. With this unit, we are bundling and focusing the resources and strengths of all successful traditional companies in the Klingel medical metal group. We are thus increasing our innovative strength and speed to prepare ourselves in the best possible way for the challenges of the future: with higher production capacities and specific production and process know-how. In other words: We are becoming even better, even faster, and now visually one unit.
We also cordially invite you to visit our new homepage. Here you will find more information about the portfolio and the history of Bächler Feintech AG as well as all the details about your benefits at Klingel medical metal group. We would also like to take the opportunity to thank you for your trust and the great cooperation. We are happy to continue growing together with you and look forward to a positive future.
Stay healthy!
With kind regards the team of Bächler Feintech AG
We would like to inform you about some organizational changes within the Klingel medical metal group.
According to our strategy to cover large parts of the value chain and thus providing our customers with a wide range of solutions from a single source, we have grown strongly in recent years.
This growth has also resulted from the acquisition of selected companies, so that the Klingel medical metal group today consists of Klingel medical metal, Josef Ganter Feinmechanik, Bächler Feintech and puracon - and we offer our customers everything from metal processing for MedTech, the development of medical & dental instruments, tools and components as well as sterile packaging.
Since we would like to maintain our quality, speed and flexibility for you in the future, we have decided to centralize our sales across the group and are pleased to announce that Lucas van der Merwe will be the new Chief Sales Officer (CSO) of the Klingel medical metal group. Mr. van der Merwe will also continue in his previous role as CEO of Bächler Feintech AG.
Furthermore, we have made extensive changes internally and created a central responsibility for production at the Pforzheim, Dauchingen, Matzingen and Hölstein plants, which reports directly to the Group's CEO, Ralf Petrawitz.
We have also streamlined our internal processes across the Group so that finance & controlling, supply chain, IT and human resources will now be coordinated centrally from Pforzheim.
We look forward to continuing to work with you.
The Klingel medical metal group acquires 100 percent of the shares in puracon GmbH from SHS, a medical technology investor based in Tübingen, and is adding sterile packaging services including validations to its value chain
SHS Gesellschaft für Beteiligungsmanagement mbH, based in Tübingen, is selling its shares in puracon GmbH to Klingel medical metal group, a portfolio company of IK Investment Partners. With 600 employees, the Klingel medical metal group is one of the leading companies in the field of precision machining of high-strength materials such as stainless steel and titanium for the production of medical technology products made of metal. The purchase of puracon allows Klingel to benefit from valuable synergies as contract developer, manufacturer and packer and offer its worldwide medical technology customers a complete range of services based on the "one-stop-shop" principle. This is already the third acquisition for Klingel since IK Investment Partners acquired a stake in 2018.
SHS Gesellschaft für Beteiligungsmanagement mbH, based in Tübingen, has been active as an investor in the field of medical technology and life sciences for more than two decades. This makes SHS one of the most experienced investment companies in this sector, and it is meanwhile investing from SHS fund V.
At the end of 2015, SHS took a stake in puracon GmbH based in Rosenheim. As a full-service partner for the medtech industry, puracon offers efficient packaging and validation solutions for medical technology products: primarily implants and instruments. Thus, puracon is part of the validated process chain of implants and the final station before the sterile product is used for patients in the hospital.
Sascha Alilovic, Managing Partner of SHS, says: "With Klingel medical metal, puracon is able to continue to pursue a targeted course of growth. Klingel thinks in the long-term. The company has been in the market since 1986 and is today one of the leading suppliers in its field. Our goal was to support puracon on the road to profitable growth. We've achieved this, and now it's time to ignite the next stage – and Klingel is the perfect partner for this."
Ralf Petrawitz, Managing Partner and CEO of Klingel medical metal, plans to significantly expand his offering for medical technology customers worldwide on the basis of this acquisition. "puracon is a very good addition to an already extensive product range for our demanding customers from the medical technology sector. As a result, we are now able to offer services in the field of validation and packaging within the Klingel Group. These factors enable us to specifically strengthen our competitive position and make us fit for the future."
Ruth Gessner, Managing Director of puracon, is also pleased with this development: "Together with SHS, we as a puracon team have been able to significantly expand our customer base over the last five years, thereby generating strong growth. With Klingel Group, we will take the next step and achieve synergies that will benefit both our customers and our employees. We look forward to working with them."
Klingel collection now at Spreadshop
For employees and their families, Klingel medical metal has created its own collection for online orders at Spreadshop. Here, interested parties can find selected items such as T-shirts, sweatshirts and various accessories. These are already delivered from an order quantity of 1 piece.
Have a look at https://shop.spreadshirt.de/klingel-medical-metal/all
Klingel medical metal awarded as 1A training company
The medical technology company Klingel medical metal GmbH in Pforzheim has been awarded the "1A training company" quality seal by the Northern Black Forest Chamber of Industry and Commerce (IHK). According to Georg Milo, training officer at the IHK, only 79 of a total of 4,000 companies in the northern Black Forest are currently allowed to use this seal, which is also unique in this form throughout Germany.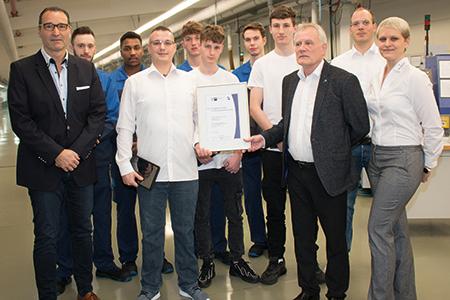 "The companies that receive the award have to offer more than is required by law," said Milo when presenting the certificate in the presence of managing partner Ralf Petrawitz (left), the two training managers Patrick Gauss (Klingel medical metal, fourth from left) and Sascha Döring (subsidiary Josef Ganter Feinmechanik, second from right), Catarina Haberstroh (assistant manager and marketing manager, right) and the trainees of the two precision engineering companies. Behind the seal is a comprehensive catalog of services that can be accessed on the Internet at any time and is something special for the training companies concerned, he continued.
Managing Director Ralf Petrawitz praised the mutual appreciation expressed by the presentation of the certificate. He thanked all those involved, in particular from the personnel and training departments, for their great commitment to increasing the attractiveness of apprenticeships at Klingel medical metal. He added that this was also intended to do justice to the high value placed on training as a skilled worker and what he still considers to be the "Goldenes Handwerk". Petrawitz and Milo agree that performance and expertise translate into more responsibility and better pay, even without a degree, if you seize the opportunities and use them accordingly. And these are currently better than ever, as the continuing demand for skilled workers shows. Due to its continuous growth, Klingel medical metal is also hiring additional employees or taking on trainees after they have successfully completed their training. They were recently equipped with new tablets for the "Mobile Learning in Smart Factories" (MLS) program run by the Nachwuchsstiftung Maschinenbau foundation. "MLS, with its possibilities for networked working and learning, is the appropriate preparation for future skilled workers for the Factory 4.0 of networked production systems. Thus, even in new technological requirements, the trainees will be able to develop and document solutions to problems in a self-organized manner," according to their website. The trainees were enthusiastic about the new apps and platforms with useful tools for daily theoretical and practical instruction. "We also save a lot of paper now" they rejoiced. "This pilot project is another milestone in our range of services, as is the involvement of trainees in the company's social media presence," emphasized Training Manager Patrick Gauss and Marketing Manager Catarina Haberstroh.
Advice and measures for protection against the Corona virus
As a market-leading company in the medical industry, the Klingel medical metal group is committed to people's health. Through our outstanding product quality, we not only ensure that health continues to be maintained, but that it can also be restored. We are your one-stop shop when it comes to highly complex medical applications.
Because we care about health.
For our protection and the protection of our employees, we have called for increased hygiene and appropriate measures against the spread of the Corona virus in recent days:
Wash your hands thoroughly several times a day and also actively use disinfectants.
Avoid intensive physical contact with your fellow human beings. A friendly smile combined with a warm welcome to the partner companies of the Klingel medical metal group replaces the handshake.
Avoid touching the face directly with your hands. Especially avoid the mouth, nose and eye area.
Do you feel ill? Do you have signs of shortness of breath, a strong cough and fever? Then we recommend that you consult a doctor immediately.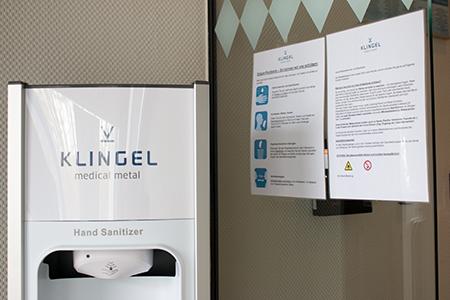 We would like to ask our visitors to do the following:
Please refrain from visiting our four partner companies for the time being, especially if you are currently from an area or country at risk.
Until further notice, we would like to point out that we will clock all visitors and, if necessary, ask you for information about your current health status.
If you have issues that can be easily addressed over the phone, we encourage you to do so.
Please forgive us that we will not greet you by handshake if a personal meeting cannot be avoided.
Get through the cold season well and stay healthy.
Your team of the Klingel medical metal group
Bächler Feintech named as "Supplier of the year"
Bächler Feintech AG, part of the Klingel medical metal group, has been named "Supplier with the highest product quality 2019" by ZimmerBiomet Robotics. The people responsible for project and quality management at the two companies were delighted to receive this special award, which is based on the supplier evaluation KPIs evaluated annually by ZimmerBiomet.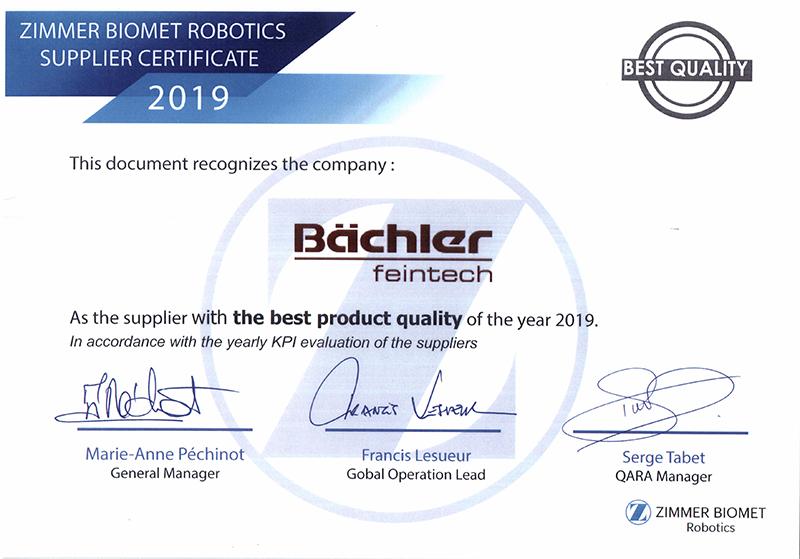 "I am very pleased that we have received this award and it confirms that we are on the right track. We will take this as an incentive to continue providing our customers with excellent service in the future," said CEO Lucas van der Merwe of Bächler Feintech when he received the certificate.

Our picture shows from left to right Mr. Naim Kastrati (Head of QM - Bächler Feintech), Mr. Jean-Pierre Gerard (Sourcing - ZimmerBiomet Robotics), Mr. Marc Hassler (Head of Production Engineering + New Customer Projects - Bächler Feintech), Mrs.. Morgane Brignon (Quality Engineering - ZimmerBiomet Robotics), Mr. Lucas van der Merwe (CEO - Bächler Feintech), Mr. Lukas Aebersold (Head of Production - Bächler Feintech), Mr. Olivier Coupard (Engineering - ZimmerBiomet Robotics), Mr. Eric Roussel (Engineering - ZimmerBiomet Robotics).